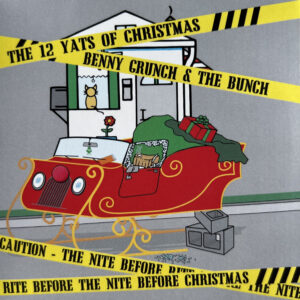 CD $15.00 Includes shipping. 
The 12 Yats of Christmas
The Nite Before Rite Before
The Nite Before Christmas
"Brand New for 2023!"

Benny Grunch & the Bunch
Produced by Benny "Grunch" Antin, ℗ © Benjie Records
THE 12 YATS OF CHRISTMAS
SANTA AND HIS REINDEER USED TO LIVE RITE HERE

AINT' DERE NO MORE

NORRIS THE NOCTURNAL NUTRIA

I GOT A USED KAZOO FOR CHRISTMAS

O LITTLE TOWN OF DESTREHAN

SANTA PUT THE HURT ON YOU

METAIRIE O METAIRIE

CHRISTMAS IN CHALMETTE

I BOUGHT PRESENTS

I COULD SEE THE ALUMINUM TREE THROUGH THE PICTCHA WINDA

DOWN THE ROAD SANTEE CLAUS

MBLUEH RCHRISTMASAH

RED LIGHT CAMERAS & POT-HOLES FOR AULD LANG SYNE

IT WAS THE NITE BEFORE RITE BEFORE THE NIGHT BEFORE
Our latest "12 Yats of Christmas - The Nite Before Rite Before The Night Before Christmas" is now available in the stores listed below.
--Barnes & Noble (Metairie), 3721 Veterans Blvd (just past Severn), Metairie, LA, 70002 (504-455-4929)
--Barnes & Noble (Westbank), 1601 Westbank Expy (at Manhatten), Harvey, LA, 70058 (504-263-1146)
--Barnes & Noble (Mandeville), 3414 Highway 190 Ste 10 (next to Bed Bath Beyond) Mandeville, LA, 70471 (985-626-8884)
--Fleurty Girl Lakeside Plaza, Metairie
--Fleurty Girl Metairie Rd,. Metairie
--Fleurty Girl Magazine St,. Uptown
--Fleurty Girl Chartres St,. French Quarter
--Fleurty Girl Huey P. Long Av, Old Gretna
--Fleurty Girl N.O.Intl.Airport, Gate 8C
--Fleurty Girl Hwy.190, Mandeville
--Fleurty Girl Main St, Bay St. Louis, MS
--Nola Gifts & Décor, 5101 W. Esplanade Ave. (near Vincent's at Chastant), Metairie, LA, 70006 (504-407-3532)
--Rose Lynn's Hallmark, 800 Metairie Rd. (next to Langenstein's), Metairie, LA, 70005 (504-833-3319)
--Rusty Pelican Restaurant 500 Girod St, Mandeville